So, I decided a few weeks ago to sign up for some local craft fairs (more on that later…) and have been gearing up for increasing my inventory (which is basically something I need to do regardless to get more traffic to my shop and gear up for the *hopeful* holiday rush).
The line I really wanted to focus on first were my wire-wrapped rings.  Wire-wrapped rings are delicate and appropriate for everyday wear, but they bring something elegant to your outfit.  I have made myself several in all different colors and pretty much wear one everyday since they go with anything.  Also, I seem to get a lot of key word searches for wire-wrapped rings, and I think they'll be fun and easy to sell at craft shows in person.  Plus, they are just plain fun and simple to make 🙂
My husband was out of town on business for a week, so I spent a lot of time staring at the new puppy (trying to make sure she didn't have any accidents, haha), and making wire-wrapped rings while catching up on last season of Boardwalk Empire.
Here are some of my new rings that I've posted at the shop, feel free to browse.  This time around I focused on making smaller sizes, but I've got to make sure everyone is fairly represented, so I'll be posting some size 7s and 8s soon!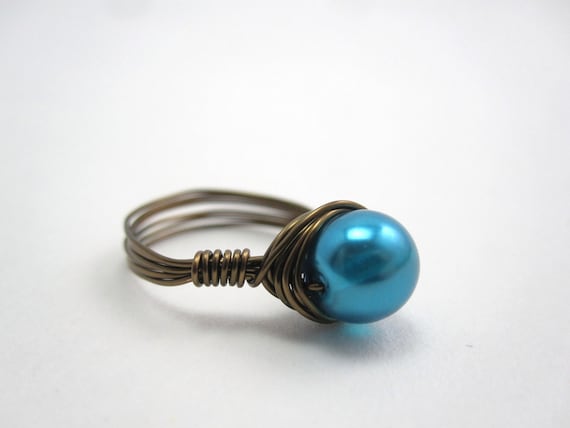 As you can tell, I'm also having a love affair with druk beads.  Czech glass druks are round pressed-glass beads made in the Czech Republic.  They have a shine and brilliance that is hard to capture with a camera.  They can be opaque and extra shiny, like my olive green druk bead above, or slightly transparent with a subtle inner-glow, like the turquoise druk bead I used.  I just love their uniqueness!
Please tell me what you think! Do you have a favorite color combo or a suggestion for a new color combo?  I've got so many different beads and pearls that the possibilities are endless!